Procrastinators raise your hands! Anyone still have some last minute Christmas shopping to do? Surprisingly, we're doing much better this year with actually having our gifts ready before Christmas. I do have a few things left to make, but it's easier to get that done from the comfort of our home, rather than having to run out to the stores last minute (especially with a two year old)!
How would you like some gift ideas that you could put together (I almost said "throw together," but that sounds a little rushed 😀 ) last minute, and from the comfort of your home? Well then keep on reading, because I have several last minute gift ideas for your girlfriends, family members, and even hubbies!
Disclaimers:
-If you don't have a printer then you'd technically have to leave home and go to your nearest office store (or the home of a kind friend with a printer) for some of these gift ideas.
-A few of the links below are affiliate links, meaning, at no additional cost to you, I will earn a commission if you click through to make a purchase. However, most of these are products I'm recommending without any financial compensation. They're just awesome!
– I love supporting small/local businesses, so with the exception of Groupon and Amazon, all of these ideas are products supporting real small business owners! (Although you can support a local business through Groupon too!)
I am SO excited about this one, because I literally just bought this for my hubby yesterday morning! I hadn't even originally planned on including this in the post, but since I just found it I had to add it in!
My hubby is obsessed with massages, so I got on YouTube to try to find how to make a DIY massage face pillow (you know, so he can actually breathe instead of laying face down on our mattress).
While on my search, I came across Yasuko (pronounced "Yasko") Kawamura, and her video I watched was really helpful. I clicked over to her site and became interested in her Easy Couples Massage course. It all sounded great, but I didn't want to pay a crazy price for an online class. 
I was shocked when I scrolled to the bottom of her page, because the course is only $7! It is a series of video lessons teaching couples how to massage their partners, focusing on one area each day for 7 days total (but you can go at your own pace): head, neck, shoulders, arms and hands, back, legs, and feet.
What I did was hand-letter a blank card I had to make it look all pretty, and then inside I wrote an explanation of the gift to my hubby. I told him that I'd focus on a new area each day leading up to Christmas, and then also add in whatever I learned from the previous days. He is quite thrilled about this! And I thought it was also a great way for us to intentionally connect during this crazy time of year.

Want to write something cute but don't like your hand-writing? 
And click here to buy the Easy Couples Massage course, to read more about it, and to learn the crazy reason why Yasuko got into massage to begin with!
I am part of a community of creative business owners, so this last minute gift idea comes from there! Tracy Lizotte just added a few new and very affordable instant downloads to her shop of fun holiday cards and other watercolor beauties.
Seriously y'all, check out her work. How adorable are those little animals? In case you're nervous about printing these greeting cards yourself, she also includes a link that explains how to do it.
Tracy says that this particular print, called "Cat Surprise" is her favorite! 
Click here to check out her instant downloads, and take a peek at her other work too!
I am so excited to be able to include my very own hand-lettered print collection on this list! These prints make great last-minute Christmas gifts or would also add to your holiday party decor! 
I had so much fun lettering some of my favorite Christmas carols into different ornament shapes. These are also instant downloads, so you can buy them now and instantly download and print them!
You can purchase the whole set of four (and save) or just pick your favorite one. You'll receive the files in both black and white and full color, and both 5×7 and 8×10 options so you can print the size you need. If you prefer, you can also shop through my Etsy store, where I also have a few additional digital prints listed!
Jane Reimer is another creative business owner I met through that online community I mentioned previously. I love these printable calendars she offers! Above are pictures of her Weekly Day Planner printable, as well as her beautiful Vintage Watercolor Monthly Calendar pages (I just love the different watercolor florals on each month!
Check out Jane's work and the other products she offers in her Etsy shop.
Our culture is known for having so. much. stuff. So why not give the gift of experience? 
Groupon is just one way you could do this. Access great deals to spas, restaurants, event tickets, and other fun activities!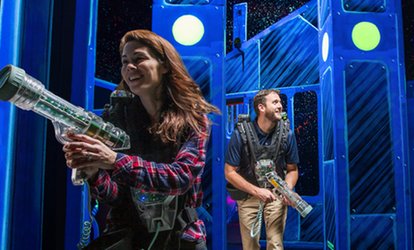 You can either give an experience gift for the person to enjoy on their own, or you can plan a day to enjoy the experience together! As soon as our daughter is old enough to understand it, we will primarily stick to experience gifts (we already do now, but she doesn't know the difference from receiving an experience on Christmas or any regular day).
These are also a great option if you're looking to save money, because you can get creative and plan something fun that doesn't have to cost much. Some ideas I've used with my younger cousins have been movie nights, nature walks, baking days, and sleepover parties. Just print out a picture and/or create a cute little card explaining the gift. You could even make it into a gift certificate!
If you're looking for more ideas, head over to Big Life Journal to check out her awesome list of 50 Experience Gift Ideas for Families and Children.
 Still not sure what to get? How about gifting an Amazon Prime membership? With a Prime membership, your friend or family member will have access to:
FREE Two-Day Shipping on over 100 million items

Watch thousands of movies and TV shows with Prime Video

Stream millions of songs and thousands of playlists

Also get free Kindle e-books, unlimited photo storage, exclusive access to deals, Twitch, and much more
From the Amazon website:
Amazon will send your gift recipient an email on the day you choose along with redemption instructions. The gift recipient can start their Prime membership right away. If the recipient is already a Prime member, the gift can be exchanged for an Amazon.com Gift Card in the value of the original gift purchase price plus any applicable sales taxes paid.
This gift will go right to your recipient's inbox, and you're good to go! Click here to get started!
I hope you've gotten some ideas you could use *right now* as a last minute Christmas gift! If you have a great last-minute gift idea, please share below! 
Merry Christmas everyone!